Regular price
Sale price
$14.00 USD
Unit price
per
Sale
Sold out
Jewelweed Salve is a very effective tool to have in your arsenal to help the body. It can help combat the itching and irritation associated with many rashes, bites, and dermatitis conditions. Consequently, Jewelweed effectively addresses afflictions imposed by coming in contact with Poison Ivy, Oak, and Sumac. In addition, it helps soothe the irritations resulting from Mosquitoes, Chiggers, stinging insects, and bugs that leave swollen, itching, irritation. Plantain and Echinacea are both anti-inflammatory, anti-itch, and promote healing of the skin's surface. Therefore, the powerful herbs in this salve can have great benefit for the skin and the afflicted individual. Likewise, the specially selected and high quality essential oils selected for this salve have great benefits for the skin. 
Special ingredient notes:
Moringa Oil has antiseptic and anti-inflammatory benefits and is used in Thailand as a natural remedy for itching associated with bug bites. It is also utilized for relief from minor skin abrasions, cuts, scrapes, rashes, sunburn, and skin infections. It is helpful to improve the appearance of wrinkles and helps prevent sagging skin.
Avocado Oil has anti-aging effects along with UV protection and is rich in vitamins A, B, D and E which make it moisturizing and cleansing.
Olive Oil has moisturizing effects, is a gentle makeup remover, helps with acne, and helps relieve eczema and psoriasis.
Jewelweed contains anti-itch properties. Helps the body recover from skin irritations, dermatitis, chigger bites, mosquito bites, rashes caused by poison ivy, oak, and sumac. It promotes blood flow and can help in the relief of joint pain.
Plantain is high in vitamins A, C, and high in Calcium. It has been used for many centuries by the Native Americans to relieve the pain associated with bee stings and insect bites. They also used it to relieve itching from poison ivy and various allergic rashes. It was historically used to promote healing in bruises and sores.
Echinacea is historically known to be very anti-inflammatory and has been used to reduce the redness from rashes and acne. It also helps to smooth the skin and calm skin irritations. 
Peppermint Essential Oil is refreshing, antibacterial, cooling, helps to reduce itching, soothing to sore muscles and joints, and helps to oxygenate the blood.
Lavender Essential Oil Properties include antidepressant, antifungal, antihistamine, anti-infectious, anti-inflammatory, antimicrobial, antiseptic, antitoxic, antitumor, regenerative, and sedative. The French used it for burns, acne, allergies, dandruff, diaper rash, insomnia, lymphatic drainage, thrush, menopausal conditions, premenstrual conditions, scarring and thrush to name a few.
Share
Ingredients

Organic Olive, Jojoba, and Moringa Oils infused with Jewelweed, Echinacea, and Plantain, Coconut Oil, Cocoa Butter, Beeswax, Shea Butter, Lavender Essential Oil, Melaleuca Essential Oil, Myrrh Essential Oil, Peppermint Essential Oil.  
How to use

Apply liberally to rash, bug bites, dermatitis, or itching skin
Return policy

Because these are natural bath and body products we do not accept returns of any products.
View full details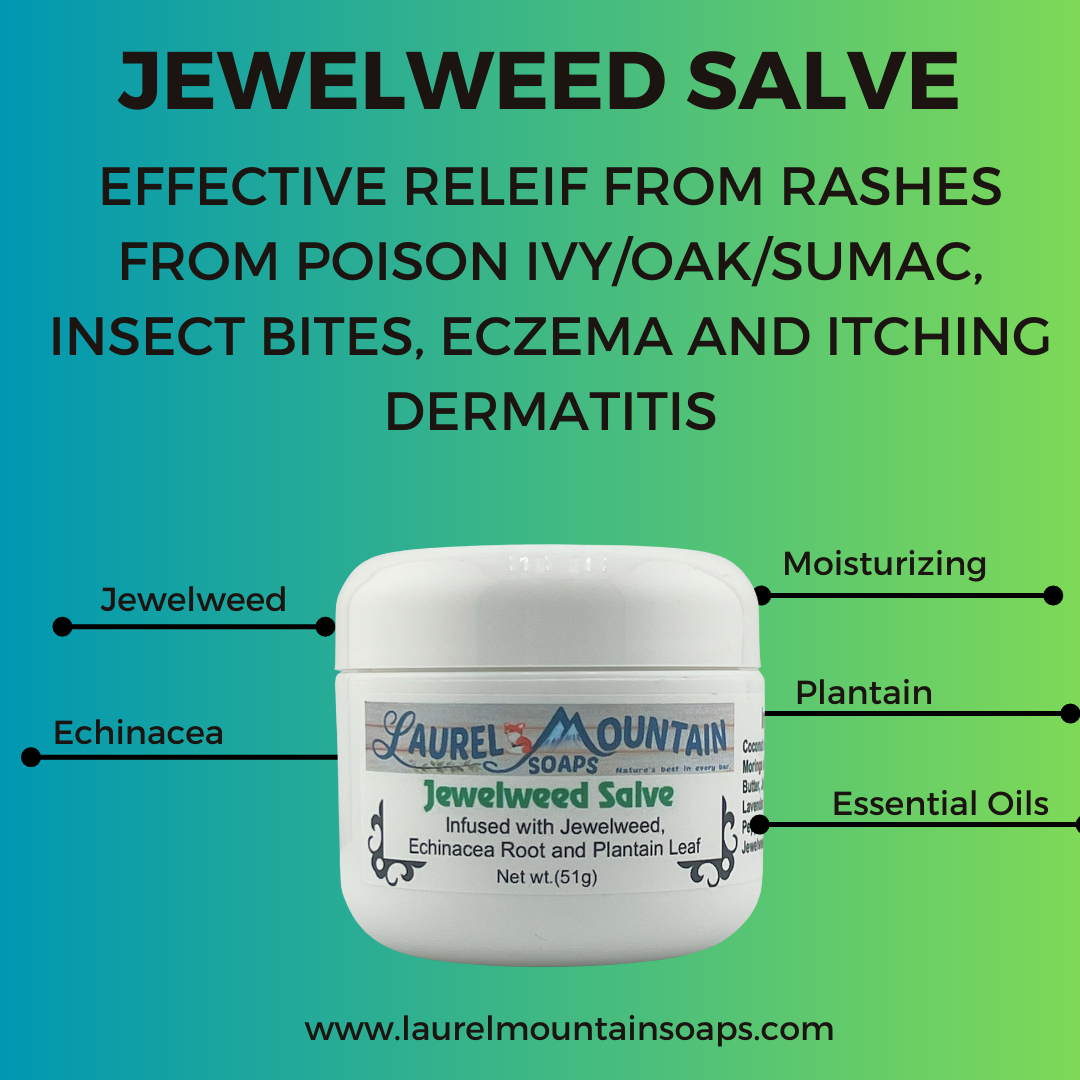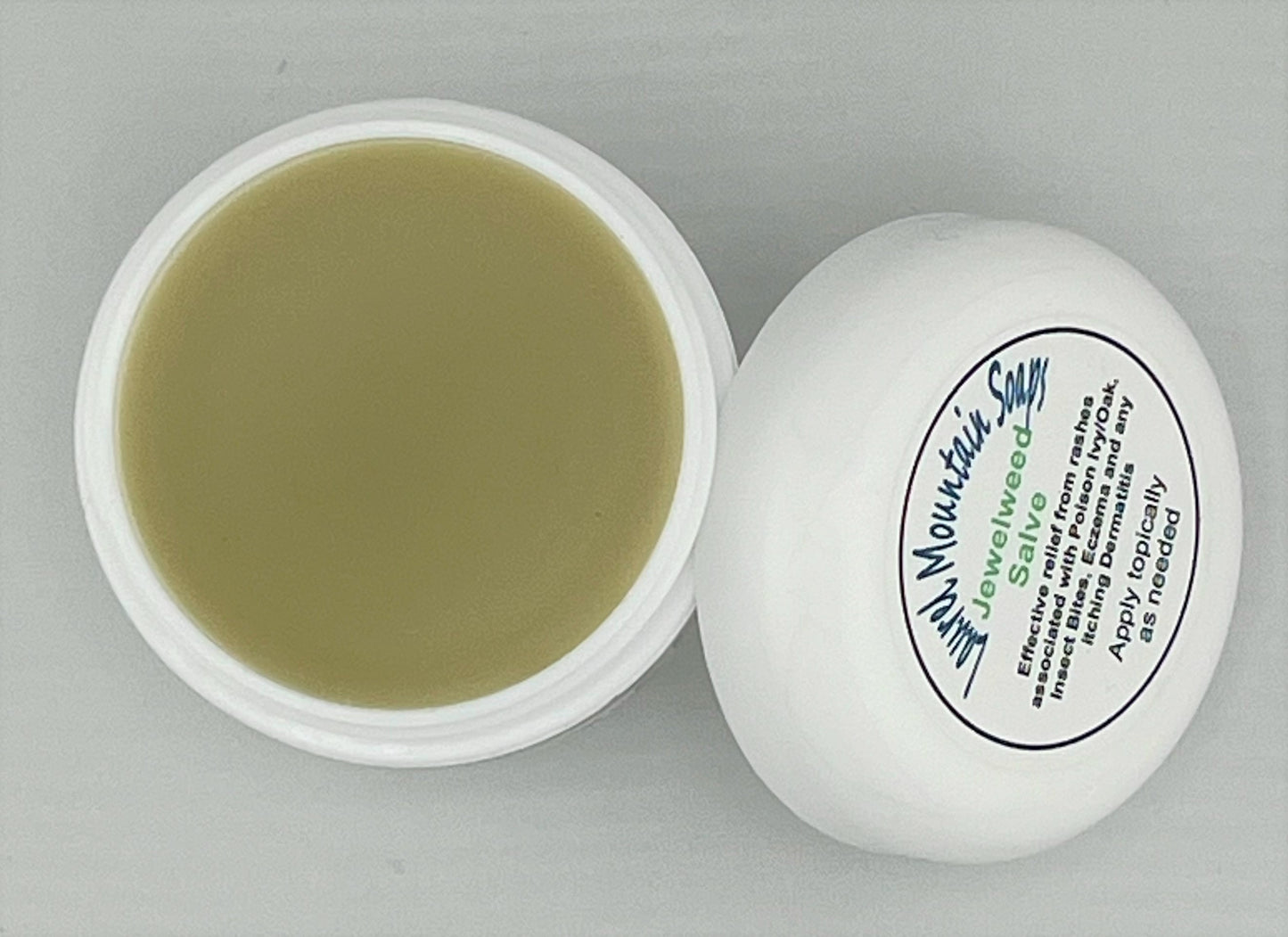 Purity
Quality equals Purity and Purity equals Quality. We are comitted to using the most pure sustainably sourced ingredients in our products so that you can rest assured that only the safest and purist quality ingredients are on your skin and in the air.
Pure Natural Deodorants

I had almost given up on natural deodorant because I always get a nasty rash in my armpit from them but this one is a total game changer. No rash, no stink, and completely natural. Thank you!

Body Scrubs

I ordered the Grapefruit Vanilla Bean Sugar Scrub and it is so nice! It gives great exfoliation and my skin is silky smooth and soft! after I have used it. The smell is amazing too. Thank you for such a wonderful product

Pine Tar Salve

Provides effective relief from skin irritations and rashes including rough and inflamed red, itchy, scaly patches and all dermatitises. It is infused with Pine Tar, Jewelweed, Echinacea, Plantain, and Lavender. Historically known to provide great relief.

Bath Bombs

I love giving products that are not harmful to ourselves, especially to my grandchildren! They Loved these bath bombs and I will need to order some for birthdays and holidays for them!
Pure Beeswax Candles
Superior to all other candles Pure Beeswax Candles burn clean, produce negative ions that attract pollutants and neutralizes them. Negative ions increase serotonin and in turn help to provide a relaxing atmosphere. They emit a bright ambient light and burn more beautifully as they age.