Regular price
Sale price
$7.00 USD
Unit price
per
Sale
Sold out
Our most popular deodorant! This Moringa baking soda free deodorant is extremely effective at keeping stink away. We have replaced the baking soda in the recipe with Moringa Seed cake Powder. Moringa Seed cake Powder has antibacterial, and antiseptic properties. Therefore, it helps to target the odor causing bacteria that make your pits stink. In addition, we have added Moringa Oil which nourishes the delicate underarm area. It provides a powerful one, two punch to odor. Consequently, Moringa does not alter the PH of the the armpit like Baking Soda does. Therefore, the wearer does not develop the red rash and irritation caused by baking soda. Sensitive skinned individuals benefit greatly from the nourishing benefits of Moringa Oil and Moringa Seed cake Powder. The scent is a light neutral scent good for both men and women. This is actually our most effective deodorant recipe and once you try it you will never go back!
Scent Variations include:
Secret Garden (Original Scent)- Bergamot, Patchouli, blend, and Melaleuca Essential Oils
Lavender Scent- Lavender, Melaleuca, and Patchouli Essential Oils
Shower Fresh- Spearmint, Peppermint, Eucalyptus, and Melaleuca Essential Oils
Rosemary Lime- Rosemary, Lime, and Melaleuca Essential Oils
Viggo- Black Pepper, Cedarwood, Cinnamon, Melaleuca, and Citrus Essential Oils
Wild Orange- Wild Orange and Melaleuca Essential Oils
Bay Rum- Melaleuca and Bay Rum Essential Oil Blend
Sandalwood Patchouli- Sandalwood, Patchouli, and Melaleuca Essential Oils.
Patchouli- Patchouli and Melaleuca Essential Oils
Woodsman- Bergamot, Patchouli, Cedarwood, and Melaleuca Essential Oils
Day at the Spa- Bergamot, Patchouli, Peppermint, Lavender, and Tea Tree Essential Oils
Unscented- no scent added
Share
Ingredients

Coconut oil, Beeswax,  Organic Shea butter, Avocado oil, Organic cocoa butter, Moringa Oil, Organic Kokum butter, Arrowroot, Moringa Seed Cake Powder, Kaolin clay, Magnesium hydroxide, Diatomaceous earth, Non-nano zinc oxide.
Return policy

Because these are natural bath and body products we do not accept returns of any products.
View full details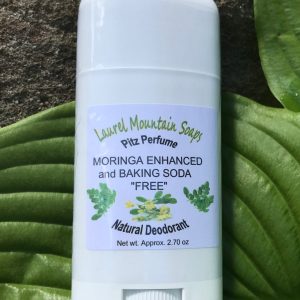 Purity
Quality equals Purity and Purity equals Quality. We are comitted to using the most pure sustainably sourced ingredients in our products so that you can rest assured that only the safest and purist quality ingredients are on your skin and in the air.
Pure Natural Deodorants

I had almost given up on natural deodorant because I always get a nasty rash in my armpit from them but this one is a total game changer. No rash, no stink, and completely natural. Thank you!

Body Scrubs

I ordered the Grapefruit Vanilla Bean Sugar Scrub and it is so nice! It gives great exfoliation and my skin is silky smooth and soft! after I have used it. The smell is amazing too. Thank you for such a wonderful product

Pine Tar Salve

Provides effective relief from skin irritations and rashes including rough and inflamed red, itchy, scaly patches and all dermatitises. It is infused with Pine Tar, Jewelweed, Echinacea, Plantain, and Lavender. Historically known to provide great relief.

Bath Bombs

I love giving products that are not harmful to ourselves, especially to my grandchildren! They Loved these bath bombs and I will need to order some for birthdays and holidays for them!
Pure Beeswax Candles
Superior to all other candles Pure Beeswax Candles burn clean, produce negative ions that attract pollutants and neutralizes them. Negative ions increase serotonin and in turn help to provide a relaxing atmosphere. They emit a bright ambient light and burn more beautifully as they age.